Starbucks isn't just for coffee drinkers anymore. Tea enthusiasts will find plenty of reasons to frequent this coffee shop giant. Offering a range of hot and cold tea drinks since their acquisition of Teavana Teas in 2012, Starbucks has something for everyone, from traditional black tea to exotic blends of herbs and fruits.
Let's take a closer look at what's available on their extensive menu and find the perfect cup of tea for you!
The following are just some of the kinds of tea you can enjoy at Starbucks. Since Starbucks is always changing their hot tea menu, this list is a work in progress.
Chai Teas
Chai tea, also known as masala chai, has its origins in India, where it has been enjoyed for centuries as a traditional beverage. The word "chai" itself is derived from the Hindi word "cha," which means tea.
The hot tea drink was traditionally made by brewing a mixture of black tea and spices, including cinnamon, cardamom, ginger, cloves, and black pepper, in milk and hot water.
On the Starbucks tea menu, you can order Chai Tea or Chai Tea Latte. They contain the same simple ingredients as the traditional Indian version, with the main difference between the two being the amount of milk used in the Latte.
Chai Tea:
This is black tea infused with spices such as cinnamon and cardamom, but without milk.
Chai Tea Latte:
Starbucks' Chai Latte is a similar black tea spiced drink but is combined with steamed milk and topped with foam. This drink is actually easy to make at home. For my favorite copycat recipe, check out this chai tea latte recipe.
Black Teas
Starbucks offers a range of 4 different black teas:
Early Grey Tea:
This choice is a black tea flavored with the essence of bergamot, derived from the rind of a citrus fruit. It has a distinctive floral aroma and flavor and is often enjoyed with a splash of milk or a slice of lemon. For anyone who doesn't use dairy milk, alternative options such as almond milk or soy milk are available.
Teavana London Fog Tea Latte is a latte made with Earl Grey tea, steamed milk, vanilla syrup, and a touch of lavender, giving it a delicate, floral flavor. To make your own, check out my copycat London Fog Tea Latte recipe.
Royal English Breakfast Tea
This fancy sounding tea is a blend of several black teas, often including Ceylon, Kenyan, and Assam teas. It has a robust flavor and is often enjoyed with whole milk and sugar.
If you're a fan of hot tea lattes, Royal English Breakfast Tea Latte is a twist on the classic breakfast tea, featuring a shot of espresso and steamed milk. It has a rich, creamy flavor and is often enjoyed as a morning pick-me-up.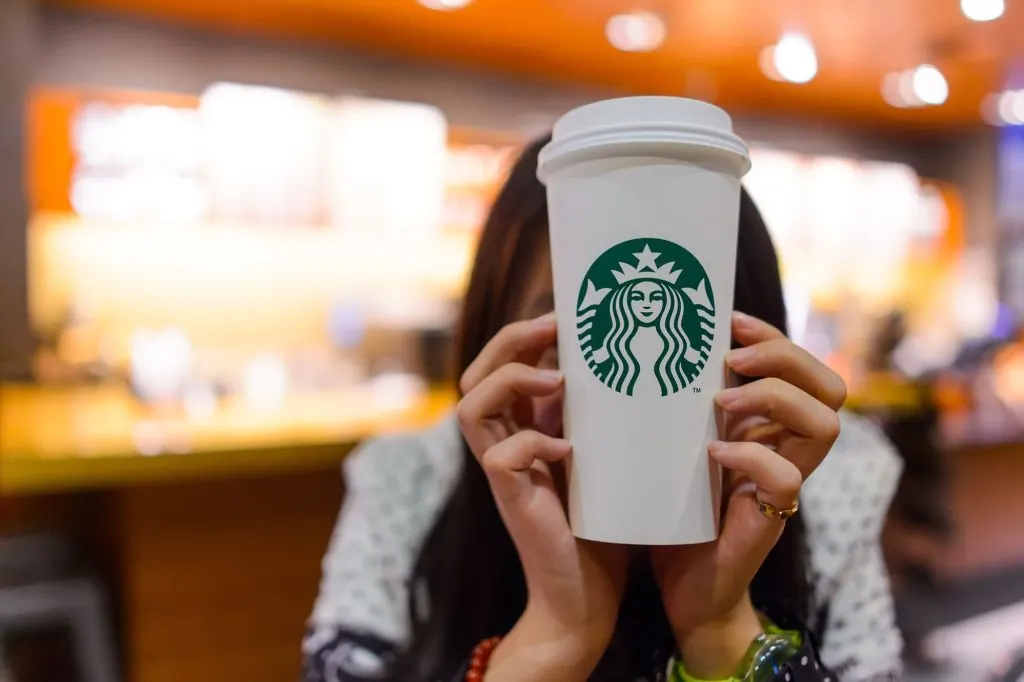 Herbal Teas
Herbal tea is a popular choice on the hot tea menus and has 0g of sugar, 0g of fat, and zero calories, as well as being caffeine free.
Mint Majesty:
This herbal infusion features spearmint and peppermint leaves blended with lemon verbena. It has a refreshing, cooling flavor.
Peach Tranquility:
This choice is a caffeine-free herbal tea featuring peach and botanical flavors, including chamomile, hibiscus, and rose hips. It has a sweet and fruity flavor. It is also a popular choice for tea lattes, where it is mixed with steamed milk and a touch of vanilla syrup for added richness.
Both of these teas can be ordered hot or iced. They are often used as a base for tea lattes or mixed with other tea blends.
Green Teas
The Matcha Green Tea Latte:
This tea is a popular and trendy beverage made with high-quality matcha powder, steamed milk, with a touch of honey or sugar for sweetness.
Matcha is one of the most popular green tea drinks, made with tea leaves grown in the shade, which are then ground into a fine powder. The result is a bright green powder that is rich in antioxidants and has a slightly sweet, grassy flavor.
Matcha tea latte is also a great alternative to coffee drinks for those who are sensitive to caffeine or who want to try something new. As with all Starbucks drinks it can be customized with different types of milk or sweeteners to suit individual tastes.
Honey Citrus Mint Tea:
Previously known as Starbucks Medicine Ball Tea, this hot drink is a popular and soothing drink on the Starbucks menu. It used to be a secret menu item, but due to its popularity was added to the official menu. The drink is made with a combination of brewed Teavana Jade Citrus Mint tea, peach tea, hot water, steamed lemonade, honey, and an optional pump of peppermint syrup.
The drink was originally created by Starbucks Baristas as a remedy for cold and flu symptoms and is particularly popular with tea drinkers during the flu season due to its comforting and healing properties. Because of this, it has also been nicknamed the Starbucks Cold Buster.
The blend of citrus and mint in the tea is thought to soothe a sore throat and provide a boost of Vitamin C, while the honey blend provides natural sweetness and has antibacterial properties.
Want to make it at home? Checkout this copycat medicine ball tea recipe next time you're feeling under the weather.
Jade Citrus Mint Tea:
Is a green tea blend featuring high-quality green tea leaves from China, spearmint, lemon verbena, and lemongrass. The result is a bright, refreshing, citrusy flavor that is perfect for any time of the day.
Emperor's Clouds & Mist:
This tea is a rare, premium green tea that comes from China's Huangshan Mountain region. The tea leaves, which are cultivated at 3500 feet, are hand-picked and carefully processed to ensure the highest quality.
The result is a delicate, nutty flavor that is softly sweet. For a weaker (or stronger) cup, customize the number of tea bags you use.
All Starbucks teas can be customized with different syrup flavors e.g. the famous cinnamon dolce syrup, toppings, and sweeteners, and served in a variety of cup sizes, with the grande drink being the most popular.
Iced Teas
We've taken a journey through the best hot tea drinks on the Starbucks menu but if the weather is too warm for a hot drink, cold tea is a great option instead. All of the above teas are available as iced cold teas versions! From Iced Chai Tea Latte to Iced Passion Tango Tea Lemonade there is something for everyone, and if you're a coffee drinker there are iced coffee options too.
Health Benefits of Tea
There are lots of different benefits to drinking tea.
One of the most significant benefits of drinking tea is its ability to boost immunity. Tea contains antioxidants that can help to prevent cell damage caused by free radicals. This can help to reduce the risk of chronic diseases, such as cancer, diabetes, and heart disease.
Another benefit of Starbucks tea is its ability to promote relaxation and reduce stress. Herbal teas like chamomile and lavender are known for their calming properties and can help to reduce anxiety levels.
Additionally, teas that contain caffeine, like black and green teas, can provide a boost of energy without the jittery effects often associated with coffee.
Tea also offers digestive benefits. Peppermint tea, for example, can help to soothe an upset stomach, while ginger tea is known for its anti-inflammatory properties and can help to ease nausea and indigestion.
For anyone looking to enjoy sugar-free drinks, tea has less sugar than drinks such as fruit juice (unless you add extra sugar or syrup).
Out and about and need a cuppa?
Don't have time to visit a coffee shop but still want your Starbucks fix? Starbucks merchandise is widely available in grocery stores, hotels, airports, and convenience stores in nearly 40 different countries around the world.
In fact, there are over one million outlets outside of Starbucks cafés where their products are available. You can enjoy delicious teas from Starbucks almost anywhere!
For even more convenience, you can use the Starbucks app, which allows Starbucks customers to order and pay for Starbucks drinks and food items from their phone. Users can customize their orders, earn rewards, and find a local Starbucks in their area. Additionally, the app offers features such as order tracking and mobile-only promotions.
Next time you visit Starbucks try one of their delicious types of tea. They have so many good hot teas -they have something to satisfy even the most discerning of tea lovers!