Ask any serious tea drinker and they'll vow that they couldn't live without their electric kettle.
Here's a rundown of the best electric kettles on the market whether you're a newbie with a box of Lipton or a seasoned tea connoisseur.
Why Use an Electric Kettle for Tea?
For any job, having the right tools makes the job easier and more fun. For tea lovers, there's only a shortlist of tools you need, but the electric kettle is one of them.
I love the convenience and ease of an electric kettle.
Want hot water?
Simply fill your kettle with water, turn it on and in just a few minutes you'll be steeping that perfect cup of tea.
It can be overwhelming when you see all the options out there! Read on to find out the features to look for, some good basic recommendations, and what to look for if you want to level up your tea game with an advanced tea kettle.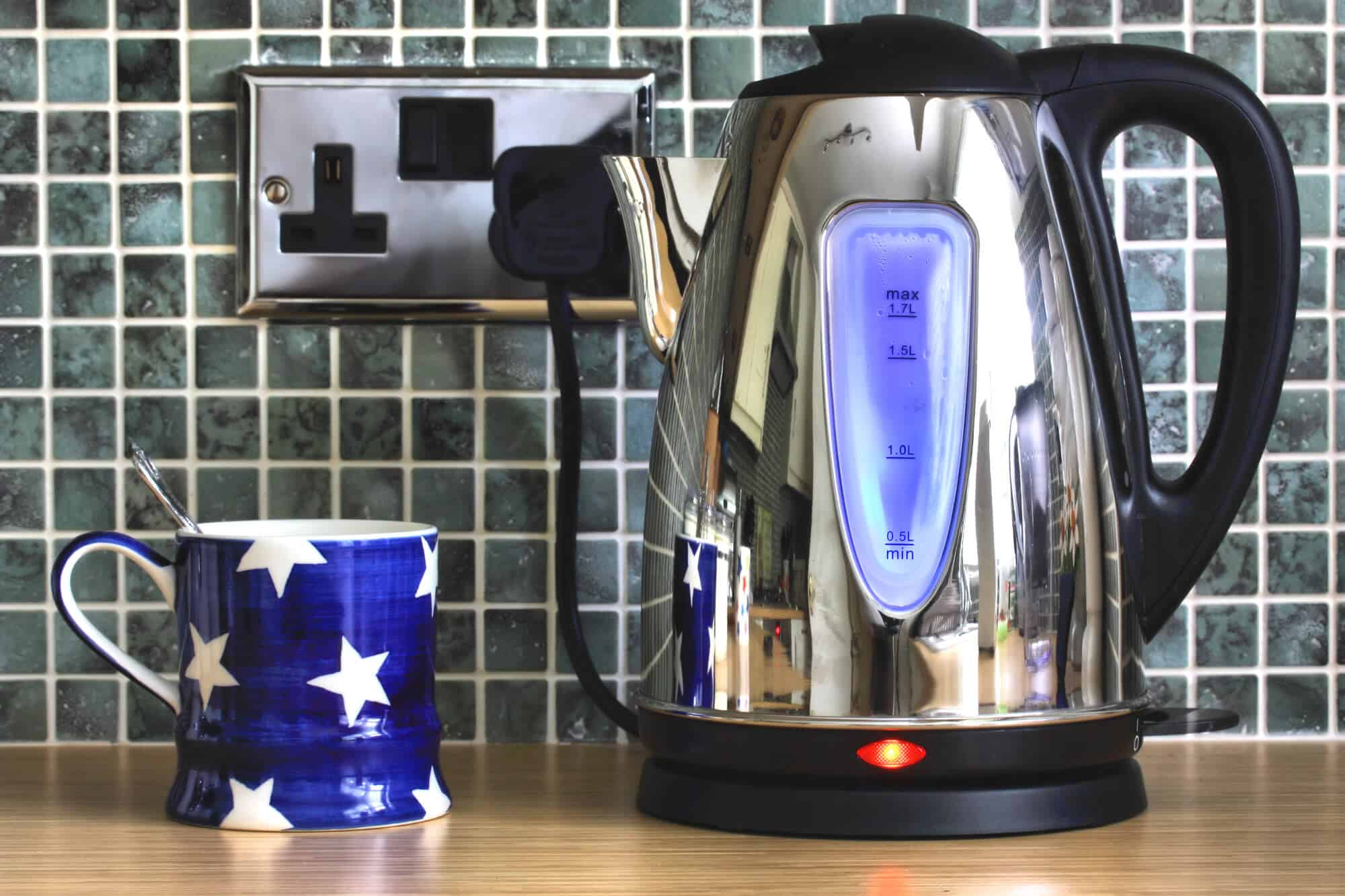 This post may contain affiliate links. My full disclosure policy is sort of boring, but you can find it here.
These are the Top 3 Basic Electric Tea Kettles for 2020:
Each of these three recommended kettles does an excellent job boiling water. All three are 1500 W models for fast heating, so they only take about 6-7 minutes when full to get to a boil.
They also have auto shut-off for safety and are cordless with a base that they sit on. They all hold a good amount of water (1.7-1.8 liters), so you're not having to constantly refill.
If you can get one of these kettles for under $40, it's a great value.
Important Features in a Basic Electric Kettle
Here are the top features you should look for in a basic kettle:
Auto-Shutoff
This feature automatically turns the kettle off once the water has reached the desired temperature. For me, this is an absolute must-have in any electric kettle.
Growing up, we always had a pretty tea kettle perched on our stovetop. My mom was a big tea drinker so she'd use it every day.
But, she also burned a bunch of kettles. She'd fill them up with water, turn the heat up to high and then forget about them until they'd boiled dry and the lovely aroma of burning enamel filled the kitchen.
So the moral of the story is….always get a kettle with auto-shutoff.
Cordless
Another feature that really makes a difference in how much you'll love your kettle is the cord or lack of one.
A cordless tea kettle is so much easier to fill and pour than one tied down by a cord.
Most electric kettles have a base that stays plugged in, and a removable pitcher that you can easily move to fill up at your sink or water faucet.
One Temperature Setting: Boiling
These basic electric kettles do a great job boiling water but don't have a temperature setting adjustment.
If you drink mainly black tea and herbal teas, this simpler kettle will work perfectly since those tea varieties should be steeped in boiling water.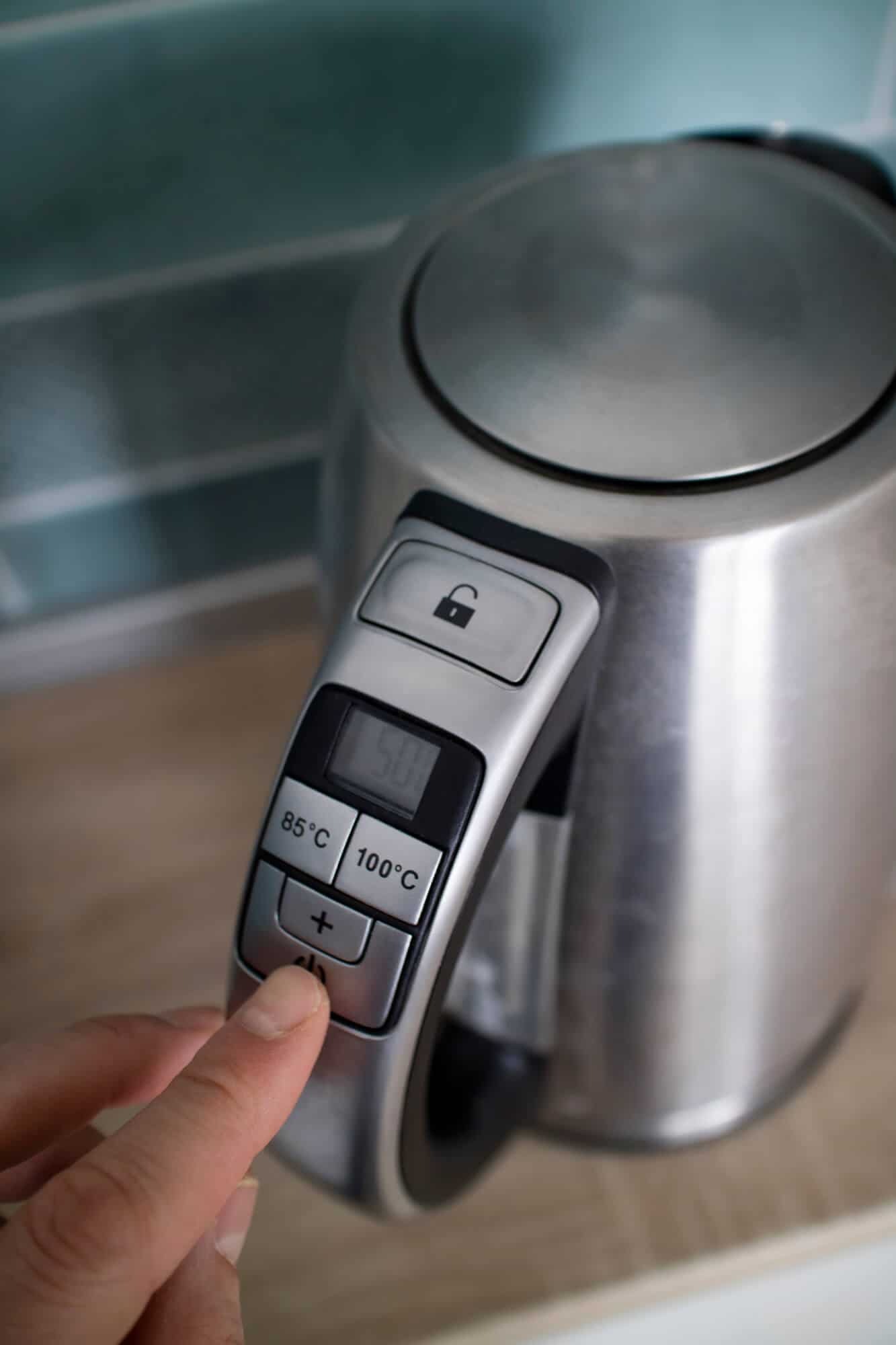 Best Hot Water Kettles for Advanced Tea Lovers
If you've been drinking tea for a while and love the more delicate teas that require brewing temperatures below boiling, you'll want to look into electric tea kettles with more advanced features.
These are more expensive, but worth it if you have made the ritual of your daily cup of tea an important part of your day.
Along with the basic electric kettle features above, there are a couple of other things that can make your hot water boiling experience even better.
These are the Top 3 Advanced Electric Kettles for 2020:
Each of these three recommended kettles does an excellent job boiling water to a specific temperature.
These three top picks for an upgraded electric kettle have all the features of the lower-priced models: auto shut-off for safety and are cordless with a base that they sit on.
You'll notice that most of the higher end kettles have a smaller capacity, usually around 1.0L. But if you need fine temperature control you're probably not making tea for an army so it's usually not an issue.
If you can get one of these kettles for around $100, consider it a great value because these higher-end kettles can go for hundreds.
What To Look For When Buying A More Advanced Electric Kettle
Variable Temperature Setting
Being able to set your electric kettle to temperatures other than straight boiling is a must if you drink green, white or oolong teas.
Some of these kettles have a set of preset temperatures perfect for any type of tea. Others have the ability to adjust the temperature in 1-degree increments.
Gooseneck Spout
Some tea lovers would argue that the best electric kettles all have a gooseneck spout.
A gooseneck spout gives you much more control over the volume and flow rate of your hot water. No more glugging and splashing of boiling water over your counter.
Great Design
You'll notice that many of these top picks have beautiful, sleek lines and look great on your kitchen counter. While this isn't a must-have, it doesn't hurt to have a little beauty in your daily tea ritual.
How To Descale A Kettle
Once you've picked out best electric kettle for you, you want to make sure it lasts a long time.
Even if you live in a place with pristine, crystal clear water, you will get mineral buildup inside your kettle.
Luckily, it's easy to get rid of the scale and you don't even have to use nasty chemicals. Depending on how much use your kettle gets and how hard your water is, you may need to do this more or less often.
Cleaning a Kettle Without Chemicals
Fill your kettle about halfway with equal parts water and plain white vinegar.
Let it sit for one hour.
After the hour, turn on your kettle and boil the mixture.
Empty the mixture and rinse the kettle well with clean water.
Run a kettle full of water through a boil cycle and empty.
Use as normal.
If you love tea as much as I do, pin this to your favorite tea-loving Pinterest board and pass it on for others to enjoy! Pinkies up!