Hosting a tea party this upcoming holiday season? Do you need some new, fun, and festive recipe ideas? Look no further! There are so many options to help you stay on theme with a Christmas tea party!
Whether you are hosting the most elegant and distinguished event of the season, or just having a few close friends over for a get-together, this list of 15 ideas will definitely light the holiday spark! From red velvet macarons and fruit cake cookies to Rudolf's red nose truffles and hot chai tea recipes, there are so many fun and festive ideas here for you to try!
Christmas Tea Party Ideas For a Festive Gathering
Nothing says Christmas like mince pies and this is no exception! This mince pie recipe includes brandy and dried figs, perfect for the holiday! You can even decorate the tiny pie crusts with holiday cutouts for the perfect Christmas Tea Party Recipe Idea.
No tea party would be complete without a set of macarons! These bright red tiny treats are decadent and delicious. Gel food coloring along with cocoa powder give these their cheery cherry coloring. They look so gorgeous out on a food table to boot.
These festive tea bags can be personalized with your holiday message and are the perfect favor for a Christmas tea party.
Fruit is always a welcome addition to any Christmas tea party table. These 5-ingredient Santa lookalikes are ideal for a healthy, festive treat! They're easy to make and yummy too. These would also be great for a Christmas themed tea party for kids.
These cookies can include papaya, cherries, plums, and beyond. Your choice!
These personalized tea spoons have a Christmas charm attached. Wouldn't they be perfect for your Christmas Party Tea table?
This yogurt cake combines black tea and blackberries, yum! This Earl Gray cake mixes up in one bowl so cleanup is easy and is super moist and delicious. The jewel-toned glaze makes it look extra elegant and festive on your tea party food table.
These cookies have a star in the middle, perfect for your tea party spread! These hazelnut linzer cookies feature two soft linzer cookies sandwiching a hazelnut spread filling and a dusting of powdered sugar. They look so pretty and are delicious too.
These vintage Christmas tea bookmarks can be printed at home on stiff paper or card stock. How about these for a book club themed Christmas tea party?
This unique cranberry cake highlights a seasonal favorite, cranberries! This delicious addition is just slightly sweet, so it's perfect with a hot cup of tea. This recipe also shows you how to make sugared cranberries and rosemary so it's perfectly garnished for the holiday season.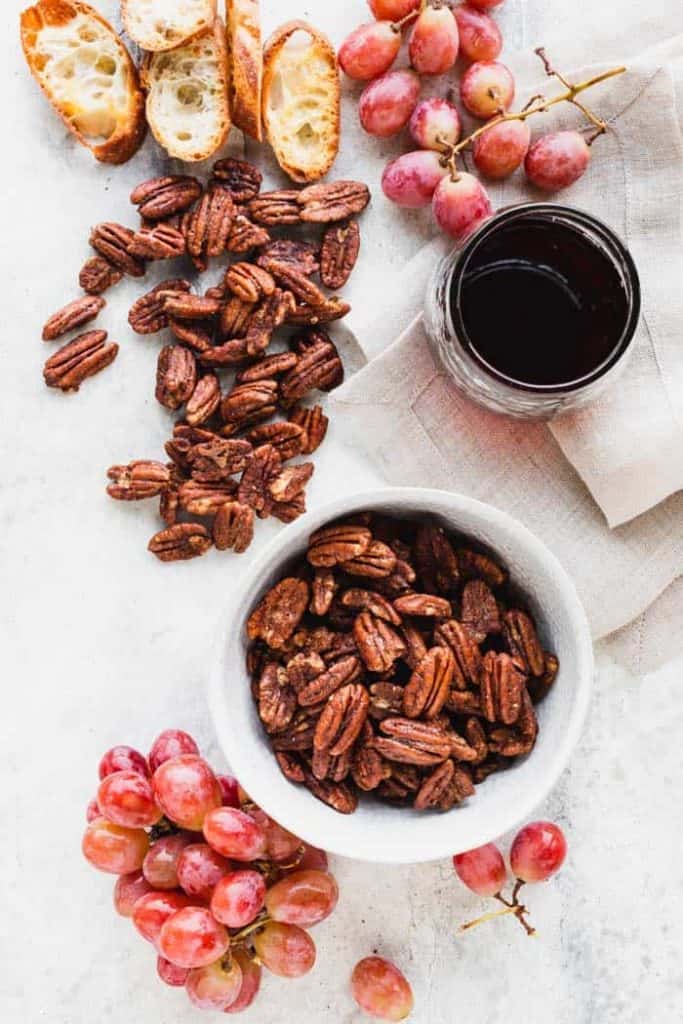 These home-roasted pecans are full of flavor and perfect to divide into individual servings! Spiced nuts just feel like the holidays to me – my grandma always made candied walnuts so this recipe makes me feel all cozy and sentimental. I love the balance of sweet and spice in these pecans. They're the perfect Christmas tea party treat.
These truffles need to cool in the refrigerator beforehand, ideal for making ahead of time! These no-bake truffles are yummy balls of chocolate chip cookie dough dipped in festive red chocolate. Super fun for kids and tasty for adults as well.
This chai tea recipe is spicy and delicious, and can be easily made in a large batch, perfect for larger parties! This recipe is so winter wonderful and different I can practically guarantee that your guests never will have had it before.
To set the stage, start with these festive Christmas Tea invitations. You can personalize them and print them out at home so it couldn't be easier!
These mini cakes are decorated to look like wreaths, and are also vegan! If you're a whiz with the cake decorating supplies, these pretty Christmas wreath cakes will be right up your alley.
This cookie recipe is sure to be a hit with any eggnog lover! Eggnog cream sandwiched between two eggnog cookies will make any fan happy. The creator of this treat used Christmas tree cutouts, but you could easily use something more simple if you like.
A Christmas tea party calls for a special holiday tea, and this one definitely fits the bill! Infused with the holiday flavors of cinnamon, spices, and citrus, this hot tea recipe is a great addition to your party table. And it makes your whole house smell wonderful!
Peppermint flavored macarons are the perfect addition to any Christmas tea party! Filled with peppermint buttercream and decorated with crushed candy cane pieces, these delicious Christmas tea party morsels are also vegan.
A festive, Christmas nutcracker-themed tea party to give you some serious holiday inspiration! From the decorations to the special food, there are tons of ideas in this Christmas Nutcracker themed tea party.
Want to save this Christmas Tea Party Ideas post for later? Save it to your favorite Pinterest Board and pass it on!