Milk bubble teas are a popular drink served in cafes, but you don't have to go to a milk tea shop to have this tasty treat.
Chocolate milk bubble tea is a delicious drink for chocolate lovers that is easy to make at home. Using just a few ingredients and supplies, you can whip up a homemade glass in practically no time.
Below you'll find a guide on how to mix your own chocolate milk bubble tea. The delicious taste of this simple recipe is welcome any time of the day.
How to Make Chocolate Milk Bubble Tea
Chocolate milk bubble tea might sound like a dessert, but it's got enough nutritional value to make regularly for breakfast or just an afternoon snack.
This recipe is similar to any other bubble tea recipe: combine cooked boba pearls with flavored milk and tea, and serve over ice. Once you get the hang of cooking the boba, it's a breeze to whip up many different flavor variations.
Ingredient List for Chocolate Milk Bubble Tea
Chewy boba pearls: Tapioca pearls are also known as boba pearls or boba balls. These pearls are usually flavored and sweetened with simple syrup or flavored syrup.
Tea: Either black tea or chocolate tea can be used as the tea component in chocolate milk bubble tea. Using chocolate tea will give the tea a richer chocolate flavor.
Chocolate: Milk chocolate chips melted in a saucepan, chocolate syrup, unsweetened cocoa powder, or hot chocolate powder mix can be used to make chocolate milk bubble tea.
Milk: Dairy milk (whole milk, reduced fat, or skim milk) or plant-based milk like oat milk, coconut milk, or almond milk can be used in chocolate milk bubble tea.
Sweetener: Chocolate milk bubble tea can be sweetened with a simple syrup made from granulated sugar and hot water. White sugar or brown sugar can be used. Stevia, monk's fruit, and other liquid sweeteners are also practical options.
Ice cubes: If your chocolate milk is at room temperature, you'll need plenty of ice cubes to chill things out.
Along with these ingredients, you'll also need a few basic tools to make chocolate milk bubble tea.
This post may contain affiliate links. My full disclosure policy is sort of boring, but you can find it here.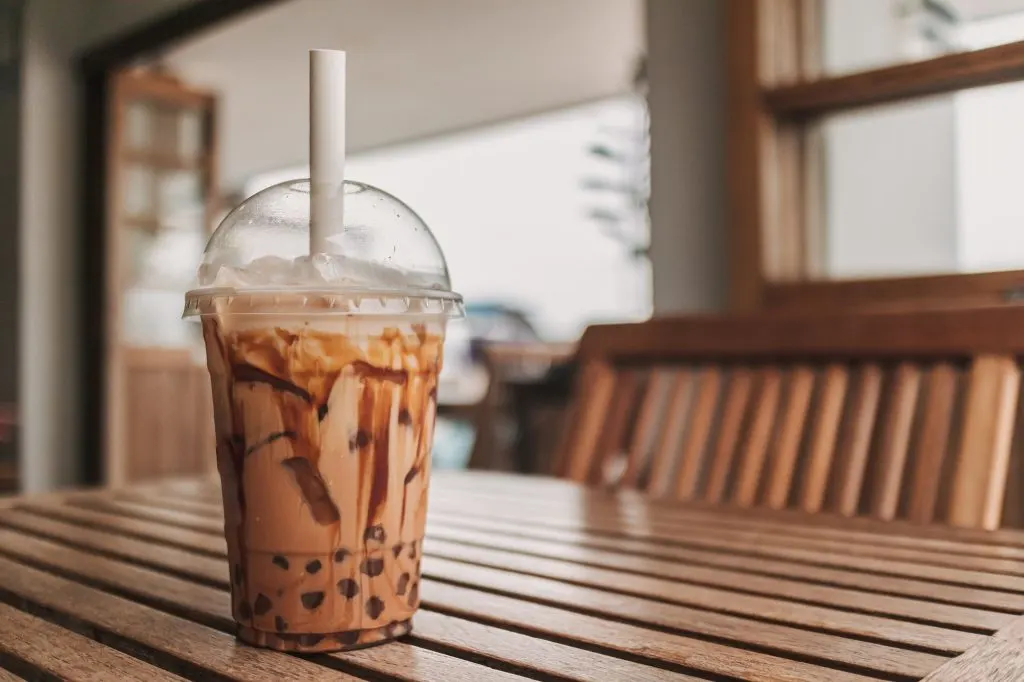 Other Supplies for Making Chocolate Milk Bubble Tea
Now, you'll have to gather your supplies.
The list includes:
Boba straw: A boba straw is a straw with a wide opening that is big enough to allow boba pearls to be sucked through it.
Mason jar: If you make a homemade black tea or chocolate tea concentrate to build your chocolate milk bubble tea on, you'll need a Mason jar to store it in the refrigerator between uses.
Pan: A saucepan is needed to both cook the boba pearls and prepare a chocolate syrup or hot chocolate mix if you're using either in your chocolate milk bubble tea.
Once you've got your ingredients and supplies together, it's time to start making your bubble tea.
Steps for Making Chocolate Milk Bubble Tea
The steps for making chocolate milk bubble tea are relatively simple.
Follow this process to make a glass of chocolate milk bubble tea:
Make the boba pearls. To make tapioca pearls for the bubble tea, place the tapioca balls and water in a sauce pan and follow the instructions on the tapioca pearl packaging.
Make the tea. Making the tea or tea concentrate and chilling it overnight in an airtight container is the most convenient way to have tea ready for cold chocolate milk bubble tea.
Make chocolate milk. To make your chocolate milk, add chocolate syrup, hot chocolate mix, or melted chocolate chips to your milk and stir vigorously to combine. You can also use a cocktail shaker to mix things up.
Assemble the chocolate milk bubble tea. Place the tapioca pearls in the bottom of the glass and flavor them with simple syrup. Next, pour the chocolate milk and tea over them.
And there you have it! This chocolate milk tea boba drink can be consumed for either a sweet breakfast, a snack, or even a light dessert after dinner.
Tips for Making Bubble Tea
Chocolate milk bubble tea isn't a difficult drink to make, but there are a few tips you can follow to improve your final result.
Check out these hints for the perfect chocolate milk bubble tea:
Try out alternative flavors to shake things up. You can get boba pearls flavored with flavors that pair well with chocolate, such as coconut or strawberry. You can also soak your cooked boba pearls in flavored syrup – hazelnut syrup pairs great with chocolate!
Tea concentrate makes bubble tea simpler to assemble. Steeping tea bags for a cold brew tea concentrate or using tea powder and having it ready to go in the morning makes assembling bubble tea a snap.
Don't use granulated sugar directly in bubble tea. Since bubble tea is a cold drink, the granulated sugar won't dissolve easily. Instead, use liquid sweeteners like simple syrup.
Get fancy: Add a dollop of whipped cream to your finished drink for extra richness.
Try experimenting with different flavor combinations to make your chocolate milk bubble tea more complex.
Health Benefits of this Chocolate Milk Tea Recipe
You might not think about chocolate milk and health benefits as being related to one another, but the truth is that there are many healthy ingredients in chocolate milk bubble tea.
Here are some of the health advantages you can enjoy if you drink chocolate milk bubble tea:
Improved mood from chocolate: Chocolate contains a chemical known as phenethylamine that mimics the sensation of being in love. Any drink with chocolate will give you feelings of happiness to indulge in.
Vitamins in milk: The milk base for chocolate milk bubble tea contains essential nutrients like Vitamin D that help prevent degenerative bone diseases like osteoporosis.
Minerals in tapioca: Tapioca boba pearls contain important minerals like calcium that help the health of teeth, bones, and hair. It also contains large amounts of iron, a mineral vital for the transport of blood oxygen throughout the body.
Antioxidants in black tea: Black tea contains many helpful botanical chemicals that act as antioxidants in the body, helping to fend off illnesses like cancer and heart disease.
The sugar, fat, and calories in chocolate milk bubble tea mean that you'll want to watch how much sweetener you add.
However, the addition of tea, milk and real chocolate in this treat actually makes it pretty healthy to drink.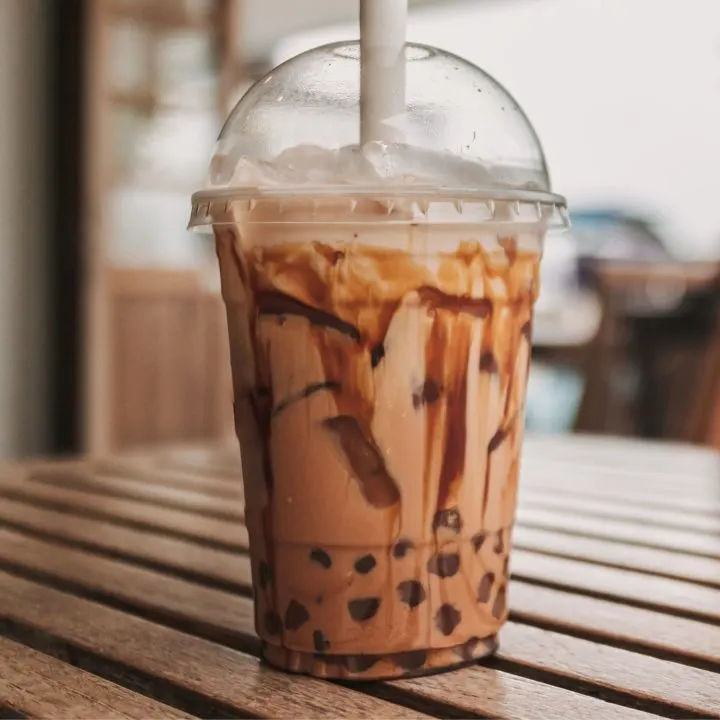 Chocolate Milk Bubble Tea
Additional Time:
30 minutes
This sweet chocolate milk boba tea recipe is super easy to make with chewy boba pearls, tea, milk, and store bought chocolate syrup. Decadent and chocolatey, it's perfect for boba lovers.
Ingredients
½ cup uncooked tapioca pearls
1 cup water (for boba)
⅓ cup chocolate syrup
2 teabags or your choice (or loose tea if you prefer)
1½ water (for tea)
1 cup reduced fat milk (or plant based milk of your choice)
Ice
Instructions
Add boba and 1 cup water to a small saucepan and bring to a boil over medium heat. Check chewiness in 2½ to 3 minutes.
Remove immediately from hot water, dunk quickly in cold water, and drain.
Add cooked boba to half of chocolate syrup and allow to soak for several minutes.
Brew tea as desired in 1½ cups of boiling water. Allow to cool to room temperature or refrigerate to cool.
Stir remaining chocolate syrup into milk until well blended.
Assemble: Split boba between two tall glasses, add ice cubes. Split chocolate milk and chilled tea between the glasses.
Garnish with whipped cream if you're feeling fancy.
Enjoy with a wide boba straw!
Notes
Use your favorite milk: dairy or plant based.
Use any type of tea you like, either tea bags or loose leaf.
Save time by making your tea and chocolate milk ahead and refrigerating. Unfortunately boba pearls don't keep well, so don't make those ahead.
Recommended Products
As an Amazon Associate and member of other affiliate programs, I earn from qualifying purchases.
Nutrition Information:
Yield:

2
Serving Size:

1
Amount Per Serving:
Calories:

335
Total Fat:

3g
Saturated Fat:

2g
Trans Fat:

0g
Unsaturated Fat:

1g
Cholesterol:

10mg
Sodium:

106mg
Carbohydrates:

72g
Fiber:

2g
Sugar:

32g
Protein:

5g
Nutrition figures are estimates. To obtain the most accurate nutritional information for any given recipe, you should calculate the nutritional information with the actual ingredients used in your recipe.
Love this Chocolate Bubble Tea Recipe?
If you loved making and drinking this iced chocolate milk tea, you'll probably love these other bubble tea posts!