Simple syrup, corn syrup, maple syrup…what's the difference?
If you keep seeing simple syrup called out in your favorite tea, coffee, and cocktail recipes and want to know how to make simple syrup, you've found the right place!
Once you learn the easy recipe to make your own simple syrup, you'll be surprised at how many recipes actually call for it.
What is Simple Syrup?
If you're scratching your head every time you see it called out in a recipe, let's start at the beginning.
Simple syrup is basically sugar dissolved in water.
The mixture is gently heated until all the sugar crystals dissolve and then it's cooled and refrigerated to use in whatever recipe you like.
Remember the last time you had a glass of iced tea and just could not get that sugar to dissolve on the bottom of the glass?
That's a job for simple syrup.
Or maybe you have a hankering for a mojito, or even a glass of homemade lemonade…simple syrup to the rescue again.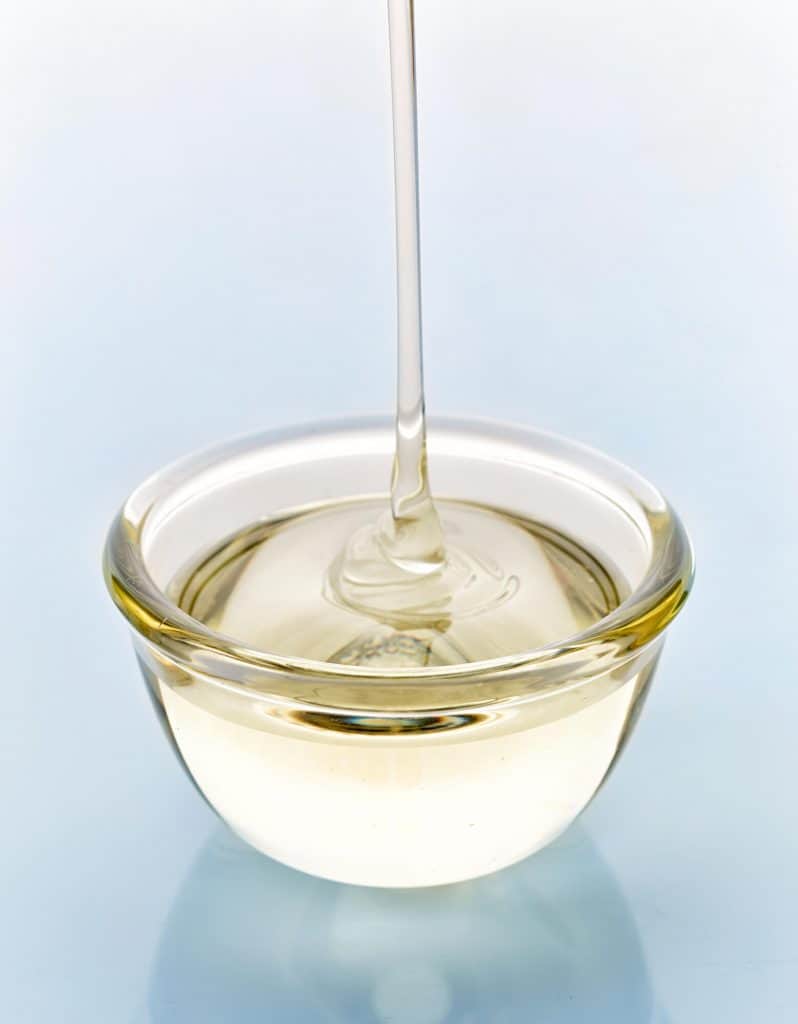 Why Should I make it? Can't I buy it?
This post may contain affiliate links. My full disclosure policy is sort of boring, but you can find it here.
Well, yes, you can buy it, but why would you want to?
It's cheaper: You can make your own for only pennies a batch.
It's healthier: And you can make sure to use only pure cane sugar and water. No extra preservatives and junk you don't really want to be drinking anyway.
Once you learn how to make simple syrup, you'll want to keep a bottle on hand in your refrigerator all the time.
If you just can't be bothered or you need to mix up a drink right this very minute and don't have time to cool it, you can find it in any liquor store or order simple syrup online.
What Do You Use it For?
So many recipes! Here are just a few:
Can't I Just Use Sugar?
If you really want to enjoy your drink, spend the extra time to make some simple syrup.
Sugar just doesn't dissolve well, especially in cold drinks like iced teas and cocktails.
You don't want to be still stirring your drink when everyone else is sipping on theirs.
Simple Syrup Ingredients
Here's the simple part of simple syrup: there are only two ingredients.
How To Make Simple Syrup
It honestly is one of the easiest things to make. If you can boil water, you can do this.
Add water to a small saucepan.
Sprinkle in the sugar.
Heat over medium heat, stirring occasionally.
Remove from heat as soon as all sugar is dissolved.
Cool and store in an airtight container in the refrigerator.
It will keep stored like this for about a month.
How To Store Simple Syrup
Once you've mastered how to make simple syrup and have whipped up a batch, you'll want to store it in an airtight container in the refrigerator.
I like these cool bottles because it feels like I'm a barista or mixologist when I go to make my drinks. They're perfect if you want to make flavored or infused syrup.
Infused Simple Syrup
When you start to get comfortable making your own simple syrup, it's time to get fancy!
Once you have a bottle of syrup, you can add amazing flavors simply by adding dried and fresh herbs, fruits, vegetables and flavorings to the mix.
The longer they soak in the syrup, the more intense the flavor so experiment a bit. Strain the syrup as you use it to remove the spent herbs.
For every cup of syrup, you can try adding about a tablespoon of the following to the bottle:
Lavender
Mint
Citrus peel
Sliced jalapenos
Vanilla beans
Google "infused simple syrup" to discover more interesting combos, like bacon.
How To Make Simple Syrup
Total Time:
1 hour
5 minutes
This easy recipe for simple syrup can go into so many recipes like hot and iced teas, coffee drinks and cocktails.
Ingredients
1 cup pure cane sugar
1 cup water
Instructions
In a small saucepan, combine sugar and water.
Heat over medium heat, stirring occasionally until all sugar dissolves.
Cool and refrigerate in an airtight container.
Notes
This recipe keeps for about 30 days. Try infusing your simple syrup by adding a tablespoon or so of whatever you like: lavender, mint, lemon zest, vanilla bean, sliced jalapenos...
Nutrition Information:
Serving Size:

1 ounce
Amount Per Serving:
Calories:

50
Other Copycat Starbucks Recipes
If you love a good Starbucks copycat recipe, I have tried a ton. Here are my all time Starbucks drinks you can make even better than the Starbucks' version, and save so much money !
Starbucks Copycat Very Berry Hibiscus Refresher Recipe
Copycat Iced Chai Tea Latte Recipe
Iced Guava Black Tea Lemonade: Starbucks Copycat
Iced Vanilla Chai Tea Latte Copycat
Iced Guava White Tea Lemonade Recipe
Starbucks Mango Dragon Fruit Refresher
Copycat Iced Sugar Cookie Latte
Matcha Green Tea Frappuccino
Strawberry Acai Refresher Copycat Recipe
Iced Matcha Green Tea Latte