If you're an iced tea lover with a taste for Starbucks original drinks like iced guava black tea lemonade, you might not know that you can make these fancy drinks at home for a fraction of the cost of buying them in a coffee shop. This lemonade variant is perfect on a hot day.
With just a few simple ingredients that showcase the natural flavors of tropical fruit and black tea, you can whip up a copycat version of this famous Starbucks drink in a matter of minutes. Keep reading for a recipe for iced guava black tea lemonade and learn how to make this delicious drink for yourself.
Starbucks describes this refreshing black iced tea drink as:
Boldly flavored iced tea made with a combination of our guava-flavored fruit juice blend, Teavana iced black tea and lemonade, and hand-shaken with ice. A refreshing lift to any day.

Starbucks Website
How to Make Starbucks Copycat Iced Guava Black Tea Lemonade
Making a copycat Starbucks iced guava black tea lemonade at home only requires a few simple tools and ingredients. Here is the equipment you'll need for making and serving iced guava black tea lemonade:
Electric kettle or saucepan: To make the black tea foundation for iced guava black tea lemonade, you'll need a kettle or saucepan to heat the water to boiling.
Tall glass or mug for serving: Since iced guava black tea lemonade is served cold, there's no need for a temperature-safe container to drink it out of. An insulated mug or glass will help prevent the ice in the drink from melting too quickly.
This post may contain affiliate links. My full disclosure policy is sort of boring, but you can find it here.
Ingredients
Along with these basic tools, you'll also need the ingredients for making the iced guava black tea lemonade. These are the ingredients you'll need to collect to make a batch:
Lemonade: Lemonade for iced guava black tea lemonade can be either store-bought or made at home. Make fresh lemonade with lemons and simple syrup or liquid cane sugar.
Tea bags: Black tea is the type of tea in the original Starbucks iced guava black tea lemonade, but green tea, herbal tea, and white tea can also be substituted if you prefer. Teavana tea is the type used by Starbucks to create this iconic drink.
Guava juice: A guava juice blend, guava juice concentrate, guava nectar, or fresh pureed guava can all be used to add guava flavor to the iced guava black tea lemonade.
Ice cubes: Ice cubes are used to keep the iced guava black tea lemonade chilled after serving. For a light ice variation, use less ice for a more concentrated lemonade flavor.
Once you have your ingredients, it's time to make and assemble the iced guava black tea lemonade.
Steps for Making Iced Guava Black Tea Lemonade
Make the Tea
If you're not using pre-made cold black tea from the store, the first step you'll need to take is to brew the black tea. (Note: Green tea, oolong tea, white tea, and herbal teas like lemon verbena can also be used.)
To make black tea concentrate, steep four black tea bags in seven cups of hot water (heated to boiling) for three to five minutes depending on how strong you want your black tea flavor.
Allow the hot tea to come to room temperature. This is a great step to do the night before you want your drink.
Make the Lemonade
If you're not using store-bought lemonade, the next step in making iced guava black tea lemonade is to make the lemonade.
To make a batch of lemonade, juice nine lemons and combine them with seven cups of water and 3/4c of a cup of simple syrup.
Stir briskly to combine and allow to chill in the fridge before serving.
Assemble the Iced Guava Black Tea Lemonade
Once your tea and lemonade are made, it's time to assemble the lemonade. Combine 3/4 cup of prepared black tea with 1/2 cup of lemonade and 3/4 cup of guava nectar, then stir to combine.
Pour the guava black tea lemonade over ice to serve.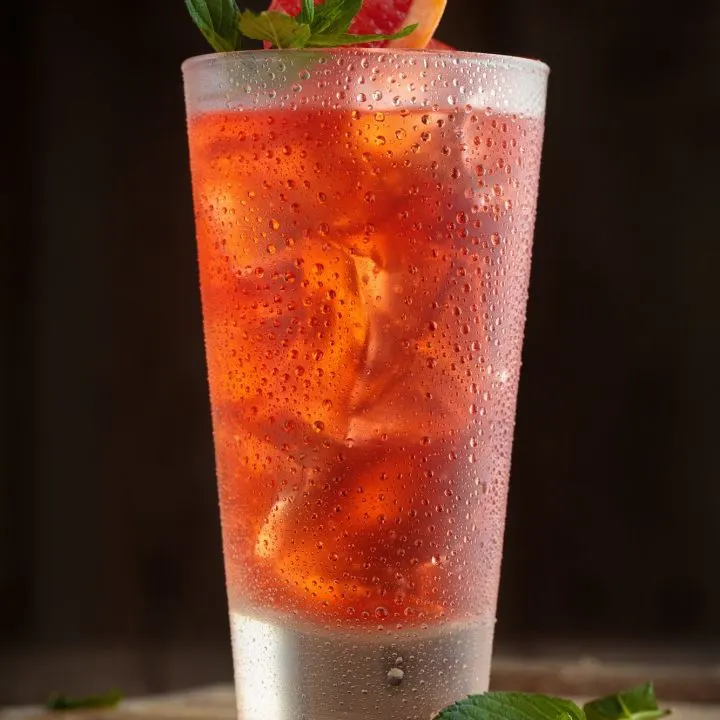 Iced Guava Black Tea Lemonade
This Starbucks copycat recipe is the perfect iced tea for a summer's day. Guava, black tea, and lemonade are the perfect match when blended and served over ice. The perfect refreshing mix of tropical fruit and black tea.
Ingredients
3/4 cup brewed black tea, cooled
3/4 cup guava nectar
1/2 cup lemonade
Ice Cubes
Simple syrup to taste
Instructions
Blend black tea, guava nectar and lemonade.
Test for sweetness, adding simple syrup as desired.
Fill a large glass with ice.
Pour tea mixture over ice and enjoy!
Notes
This recipe can easily be made with brewed white tea for a more delicate tea flavor.
Recommended Products
As an Amazon Associate and member of other affiliate programs, I earn from qualifying purchases.
Nutrition Information:
Yield:

1
Serving Size:

1
Amount Per Serving:
Calories:

175
Total Fat:

0g
Saturated Fat:

0g
Trans Fat:

0g
Unsaturated Fat:

0g
Cholesterol:

0mg
Protein:

0g
Nutrition figures are estimates. To obtain the most accurate nutritional information for any given recipe, you should calculate the nutritional information with the actual ingredients used in your recipe.
Variations to Try
The above ingredients are the basic ingredients needed to recreate an iced guava black tea lemonade, but there are additional ingredients you can use to customize the drink to your preference. Here are a few variations to try:
Coconut milk: Adding some coconut milk to your iced guava black tea lemonade will result in a creamy drink that has a more mellow flavor.
Pineapple juice: Pineapple juice can either be added in addition to guava juice or used as a replacement if guava juice is not preferred.
Pineapple ginger syrup: Pineapple ginger syrup is a popular addition to iced guava black tea lemonade and can be either made at home from pineapple juice, fresh ginger, and simple syrup or purchased commercially.
Benefits of Drinking Guava Black Tea Lemonade
Iced guava black tea lemonade is a healthy drink option to choose as long as you don't include too much sugar in the recipe.
This drink can supply your daily value of Vitamin C, and the black tea used to make it is full of antioxidants and other nutritional properties that can protect your health.
The black tea in iced guava black tea lemonade also has 36 mg of caffeine per serving that can help boost your energy and increase your focus during mental tasks.
Other Starbucks Iced Tea Drinks to Copy
The iced guava black tea lemonade is one of the most popular Starbucks drinks replicated at home, but there are a few other delicious tea-based drinks that can also be copied from this coffee shop giant.
Here are a few other favorites to consider:
There are plenty of different Starbucks drinks that you can experiment with in the kitchen to make your own customized version.
A major advantage of making these drinks at home is that you'll be able to save money by making them in a large batch, and you'll save yourself time that you'd have to spend driving to Starbucks, too.
Starbucks Iced Guava Black Tea Lemonade Is Easy to Make
With only three major ingredients, the iced guava black tea lemonade recipe from Starbucks is simple to replicate.
Next time you're craving an iced tea, try this version at home for a tropical guava twist that will knock your socks off.
Other Copycat Starbucks Recipes
If you love a good Starbucks copycat recipe, I have tried a ton. Here are my all time Starbucks drinks you can make even better than the Starbucks' version, and save so much money !