Are you looking for the caffeine buzz of coffee with the health benefits of green tea?
Look no further than this matcha green tea latte recipe. Not only is it tasty, but it's also healthy and has only a few ingredients.
If you've never had matcha, you're in for a treat. Here's what you need to know to make your own delicious iced matcha latte.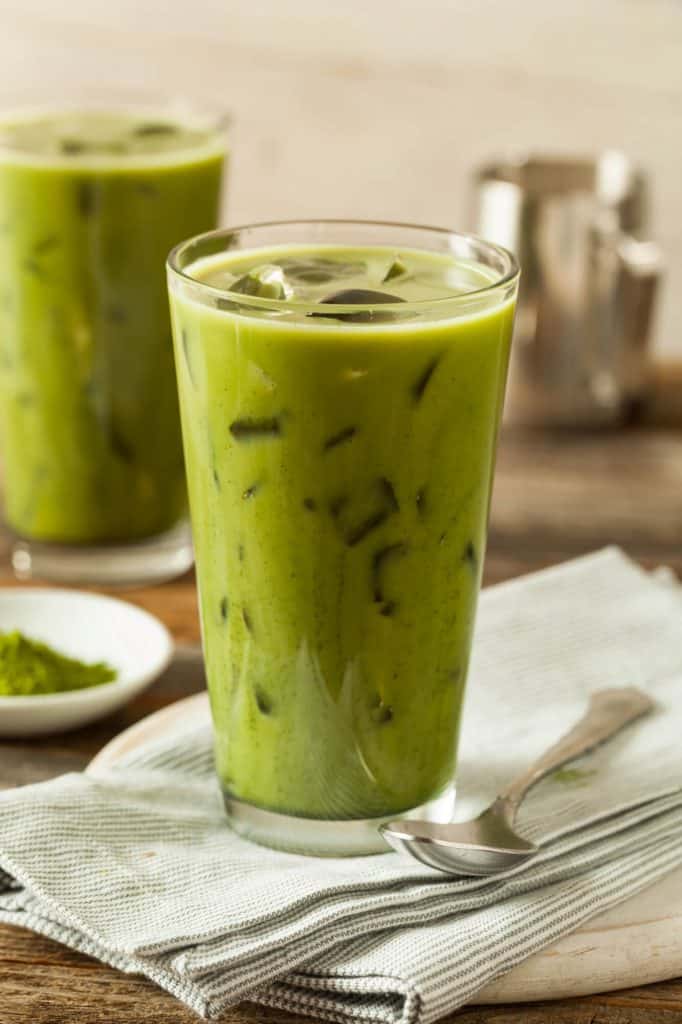 This post may contain affiliate links. My full disclosure policy is sort of boring, but you can find it here.
What is Matcha?
Matcha is high-quality green tea ground into powdered form.
Matcha, like all true teas, comes from the leaves of the Camellia sinensis plant.
So instead of steeping your tea leaves to brew your tea, you'll whisk the powder into water to make a frothy drink.
Matcha tea is the type of tea used in the ancient Japanese tea ceremony.
The Japanese tea ceremony, also called The Way of Tea, is a cultural practice centered around the art of preparing and presenting matcha.
But matcha has gained so much popularity that it's now whisked into tea lattes, matcha green tea frappuccinos, bubble tea, sweet matcha desserts, and even a popular ingredient in ice cream.
How is Matcha Different From Other Tea?
Aside from the fact that matcha is ground green tea, there are a few other interesting things that set it apart from regular tea:
Matcha is grown in the shade which results in its vibrant green color.
It's made from only new buds and leaves that are handpicked
The leaves are steamed before they are dried to further bring out the green color.
The dried leaves are stripped of their stems and veins before being stone-ground
Matcha Benefits
You may be drinking your matcha green tea latte because it tastes great and gives you an energy boost, but there are other proven health benefits that come along with it.
As a bonus, matcha:
Is high in antioxidants
Protects the liver
Boosts brain function
Helps prevent cancer
Protects your heart
Helps with weight loss and fat burning
That list alone is enough to make me want to mix up a matcha latte right now!
Does Matcha Have More Caffeine Than Other Tea?
Because you're drinking the ground up tea leaf, you'll consume more caffeine than if you drank a cup of brewed green tea.
Matcha has more caffeine than green tea brewed from leaves, but less than coffee.
How to Choose the Right Matcha for your Latte
Shopping for matcha can be confusing! Here are some tips to help you pick a tea that will taste great in an iced tea latte, but won't break the bank.
Matcha sold in America is usually classified into two categories:
Ceremonial Grade:
Usually, the most expensive and the highest quality, this tea is meant to be enjoyed on its own, just mixed with water.
Culinary Grade:
This grade is less expensive and is perfect to mix with milk for lattes, cream for matcha ice cream recipes, and for cooking.
The Bottom Line – which matcha to choose
Look for a culinary grade matcha from Japan that has a bright green color.
You're going to have to pay between $20 and $30 for a tasty matcha powder. That seems expensive, but you only use a bit for each drink and it goes a long way.
There are a jillion kinds of matcha, choose one that's a culinary grade and organic if you can.
This is the kind of matcha I use to make both hot and iced matcha green tea lattes: Aiya Culinary Grade Organic Matcha.
Tips For Making a Lump-Free Matcha Green Tea Latte
Something that you'll probably notice when you start making drinks with matcha are the lumps and clumps. That's just how it goes with matcha powder.
Here are a couple of things that I've tried to get that stubborn matcha powder to cooperate and mix in.
Cocktail Shakers work great. Just add cold water, then add the matcha powder and shake like crazy. 10-15 seconds should do it.
My trusty milk frother also works well to beat that matcha powder into submission.
You can also use a spoon, but it takes a bit more patience.
Blenders and immersion blenders also work well
How to Make an Iced Matcha Green Tea Latte
Decide how you're going to mix in your matcha:
Cocktail Shaker Method
Add the matcha powder and water to the cocktail shaker- shake like crazy to break up the clumps.
Add milk and sweetener to taste and shake again.
Add ice to a large glass
Pour matcha mixture over ice and enjoy
Milk Frother/Spoon/blender method
Mix matcha powder and water to blend
Add milk and sweetener to matcha mixture and blend again
Add ice to a large glass
Pour matcha mixture over ice and drink up
Iced Matcha Green Tea Latte Starbucks Copycat
This smooth and creamy matcha latte is a refreshing boost served over ice. Healthy and delicious!
Ingredients
3/4 cup cold milk of your choice (dairy, almond, oat, etc.)
1/3 cup cold water
1 Tablespoon simple syrup
1 teaspoon matcha powder
Ice cubes
Instructions
Using a cocktail shaker, blender, frother or other method, mix together the matcha and water until no lumps remain.
Add the cold milk and simple syrup and mix again.
Add ice cubes to a tall glass.
Pour matcha mixture over ice and enjoy.
Notes
This recipe makes a delicious hot matcha latte as well. Just replace the cold water with hot water and heat the milk before blending. Pour into a mug.
Nutrition Information:
Yield:

1
Amount Per Serving:
Calories:

120
Nutrition information assumed the use of 2% daily milk and 1 TB simple syrup.
Other Copycat Starbucks Recipes
If you love a good Starbucks copycat recipe, I have tried a ton. Here are my all time Starbucks drinks you can make even better than the Starbucks' version, and save so much money !
Starbucks Copycat Very Berry Hibiscus Refresher Recipe
Copycat Iced Chai Tea Latte Recipe
Iced Guava Black Tea Lemonade: Starbucks Copycat
Iced Vanilla Chai Tea Latte Copycat
Iced Guava White Tea Lemonade Recipe
Starbucks Mango Dragon Fruit Refresher
Copycat Iced Sugar Cookie Latte
Matcha Green Tea Frappuccino
Strawberry Acai Refresher Copycat Recipe
Iced Matcha Green Tea Latte