Not every recipe at your next tea party has to be sweet! In fact, your tea party guests will appreciate a variety of sweet and savory food options, especially when throwing it around lunchtime or brunch.
But that can be easier said than done and coming up with savory finger foods and appetizers that your guests will love can be a challenge. If you need some savory tea party food ideas, then you've come to the right place! Here are 15 savory recipes for your next tea party! From spicy deviled eggs to veggie sandwiches, asparagus tartlets and homemade scones, there's a savory recipe here that will fit in seamlessly to your tea party spread!
A spicy twist on deviled eggs with sun-dried tomatoes and salami! Pretty to look at and deliciously spicy, these deviled eggs are a new twist on an old favorite.
Made with cranberries and goat cheese, this is a fancy tea party appetizer your guests will love! Savory tea party food ideas should always be easy to eat and these tasty bites are on individual skewers to make eating them easy!
Individual sized savory tartlets perfect for snacking on at your next tea party! Asparagus lends a gorgeous green accent to your tea party food with these golden tartlets – the perfect size savory bite for your tea table.
A savory combination of mozzarella cheese, tomatoes, and basil topped with balsamic glaze. The flavors from these practically burst in your mouth – yummy for sure!
For your vegetarian and vegan guests, this loaded vegetable sandwich is definitely a crowd pleaser! Simple to make, this savory tea party food idea will get you out of the kitchen in a snap.
These perfectly layered tea sandwiches make a wonderful and simple addition to any tea party spread. You could even use different shaped cookie cutters for variety. Individually speared, they are the perfect, easy-to-eat, savory tea party treat.
A light and savory pinwheel recipe made with lots of vegetables and cream cheese! Cream cheese and cucumbers are traditional, but modernized in these veggie rollups.
No tea party would be complete with a quiche! This bacon and Swiss delight is perfect for brunch or afternoon tea! To make it easier on your guests, make sure to cut the quiche before-hand into small, easy to eat wedges!
A sweet and salty galette made with goat cheese honey filling! I love the rustic look of this galette! To make it easier for your guests, make sure to cut the galette into manageable wedges before serving.
Cream cheese flavored with chives and basil atop toasted baguette slices and garnished with tomato and basil! These are simple, easy to prepare and just plain delicious!
A simple recipe made by filling puff pastry with cheddar and onion, then baking to golden perfection. Using remade puff pastry, you can put these savory tea party bites together quickly. So yummy too!
A simple, low-carb appetizer option that your tea party guests won't be able to get enough of! Cucumbers and smoked salmon are both delicious and traditional savory fare for a tea party. These bite sized morsels are the perfect finger food for your guests.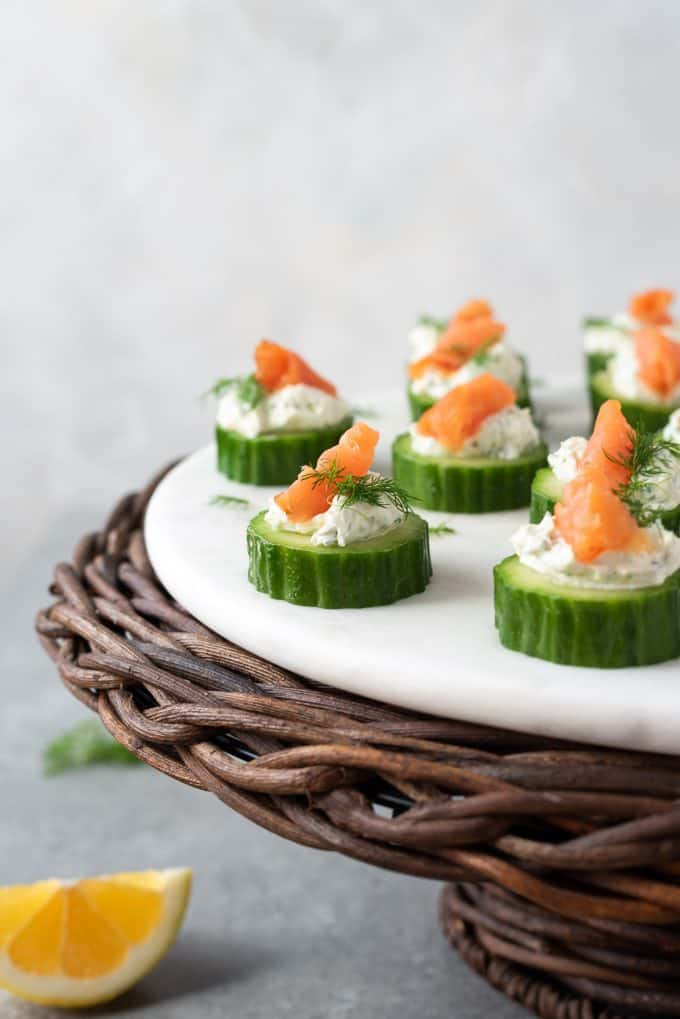 A creative way to serve salad at your next tea party, serve the salad in crispy parmesan cups! The parmesan cups act as a tiny, edible, serving dish in these zesty treats.
What's a tea party without scones? Your guests will love these simply and flavorful homemade cheese scones! These small savory bakes are just the ticket for your tea party food spread.
For the seafood lovers at your next tea party, savory salmon cream cheese puffs are sure to be a hit!
Have plenty of savory tea party food ideas now? Check out these sweet tea party dessert recipes if you're looking for some great ideas for sweet bites for your next tea party. Mini desserts for tea parties are also a great choice to make eating easier while your guests balance their tea cups!
Want to save this savory tea party food ideas post for later? Save it to your favorite Pinterest Board and pass it on!