When hosting a tea party, the menu offerings must be balanced, inclusive, and flat out mouthwatering. However, that can be a grueling duty, especially when needing to consider both breakfast and lunch-type foods! Thankfully, there are a vast variety of options and inspirational sources!
To assist you with your next brunch-themed tea party, here are 15 delicious recipes that all your guests will be sure to talk about for ages! From sweet potato hash and savory bacon and cheddar scones to easy lemon crepes and apple baked oatmeal, these 15 recipes are sure to impress any and all tea party guests!
15 Sweet and Savory Tea Party Brunch Menu Ideas
A breakfast hash recipe that is loaded with nutritious ingredients, and perfect for a side or main dish! To make things easier, I'd leave off the fried eggs and just serve the hash as a great side dish.
Perfectly portable and so delicious dipped in a cup of tea, These homemade biscotti are perfect for a little sweet breakfast treat!
Bacon, chives, and cheddar make for the perfect brunch combination. These buttery and flaky scones pair wonderfully with a hot cup of tea! Looking for more scone ideas? Take a look at my favorite scone recipes here.
French toast seems like a stretch if you're looking for a no-fuss brunch tea party menu, but this French toast can be easily made ahead of time and pairs dessert with breakfast all in one delicious recipe! You can prepare an entire pan of this delicious brunch treat ahead – it's so delicious and elegant, your guests won't know you haven't been slaving away all morning.
These sweet rolls are no ordinary roll recipe, they're made from scratch and call for fresh raspberries! There's nothing like the combination of raspberries, lemon zest and cream cheese frosting!
Is your brunch tea party a celebration? Better add some bubbly with these strawberry mimosas. Keep things bubbly with this mimosa recipe with a strawberry twist!
You had me at Nutella! This traditional coffee cake takes it up a notch with the addition of this chocolate hazelnut concoction. This coffee cake recipe serves 10, perfect for large tea parties!
Don't let the word crepe make you nervous, these are easy and simple crepes you're guests will love! Marscapone and lemon curd make these a sweet tart treat.
A puff pastry topped with ham, cheese, and caramelized onions! This easy recipe uses store bought puff pastry so it goes together quickly and is the perfect savory tea party food for your brunch menu.
This is a show stopper and so decadent. This lobster Benedict recipe is perfect for fancy tea parties, especially if you're planning something small and intimate.
Adding a quiche to your tea party brunch menu is a great ideas since it can be made in advance and is easy to serve. This delicious quiche recipe uses pre-made pie crust, perfect for when you need to get things done in a snap!
A cheesy casserole recipe that is perfectly ideal to make ahead and bake in the morning! Not only would this be good for a brunch, but it would be perfect for anytime you have overnight guests.
These tarts use store-bought puff pastry topped with goat cheese and mushrooms, yum! This is a great savory choice for your tea party brunch menu.
This easy and budget friendly oatmeal recipe is naturally gluten-free and takes under an hour! If you have vegan guests, this will be a delicious sweet brunch entree for them.
A yummy, totally customizable brunch board to give you some major inspiration! Guests can build themselves the perfect waffle. This waffle board is a morning take on a charcuterie board and it's just gorgeous.
Want to save this Teas Party Brunch Menu Ideas post for later? Save it to your favorite Pinterest board and pass it on!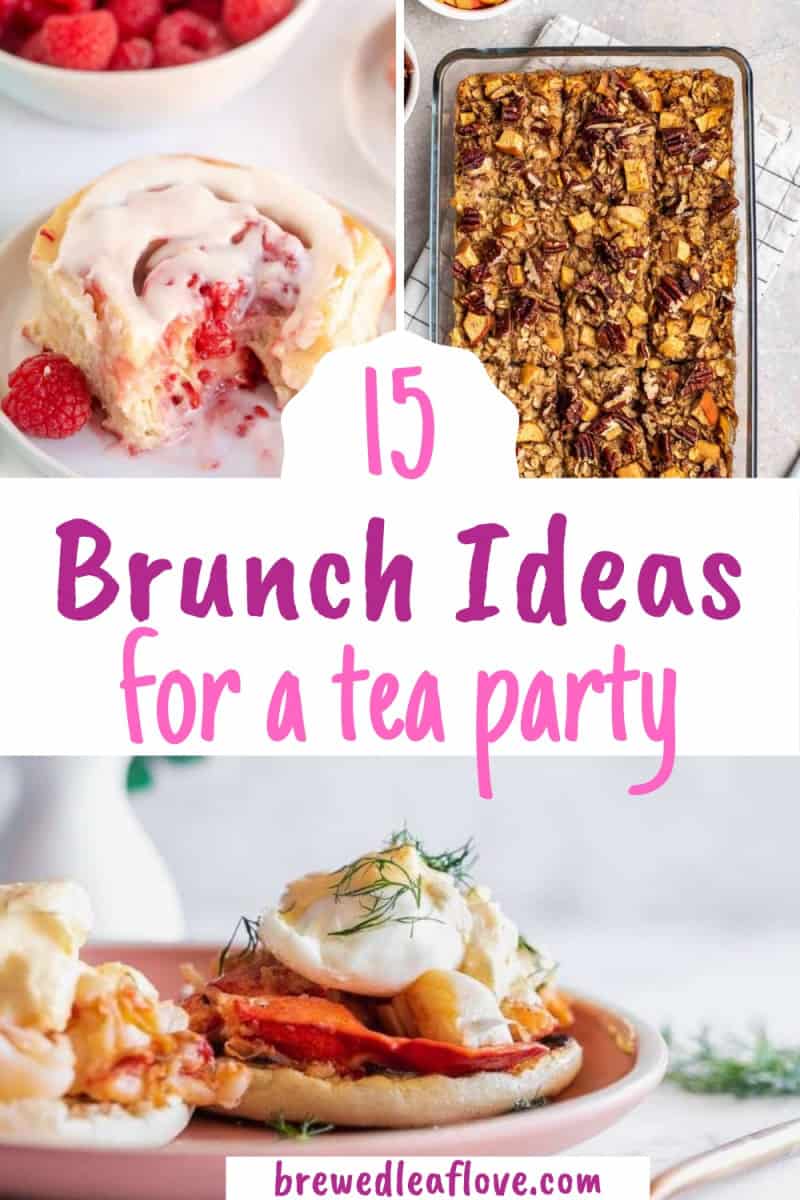 Looking for more tea party brunch menu inspiration?
So many delicious dishes to choose from! Check out this group of great tea party food ideas here for more inspiration!