This post is all about different ways to organize and set up your tea storage.
I love to make myself a hot cup of tea, flip open my laptop and scroll through all the amazing ideas I find out on the internet.
I used to visit my grandma each summer and organize every space in her tiny kitchen. That same grandma bought me my very first vintage English teacup at a yard sale that started my love of all things tea.
That desire to put everything in its place is still with me: I love organizing drawers, closets, and pantries.
Since I also love tea, I usually have quite a selection in my pantry along with all the assorted equipment I need to make the best cup of tea. If you're wondering how long does tea stay fresh, it really depends on the tea storage options you choose.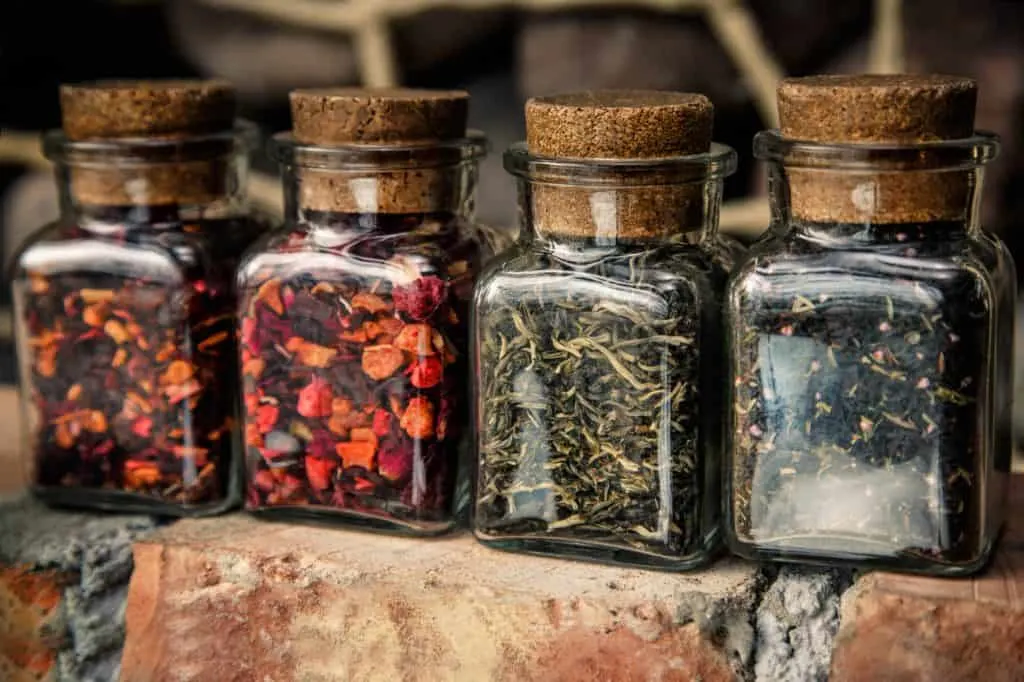 This post may contain affiliate links. My full disclosure policy is sort of boring, but you can find it here.
I found all these storage and organization ideas and wanted to share them with you.
Some of these tea storage ideas are very doable and inexpensive.
Others are just dreamy ideas I've filed away for someday when I have the perfect kitchen with a pantry devoted solely to my love of tea.
15 Favorite Ideas for Tea Storage and Organization
Krista from the Happy Housie designed this gorgeous Kitchen Tea Station from a tiered tray.
It's so pretty it makes me happy just to look at it. It looks perfect against her clean white tile.
Krista even uses her tiered tray as a hot chocolate station at Christmas!
I love it when functionality meets beauty!
Martha Stewart has the best ideas for organization and storage and her tea storage drawer doesn't disappoint.
Simple but organized, this kitchen tea organization center uses mesh drawer dividers with spaces for loose tea, strainers, infusers and more.
Here's an Ikea-hack tea storage solution from Steffi at Cuchikind that I just love.
Steffi spray painted Ikea magnetic cans a pretty rose gold color, and then used a Dymo label maker to label them. I love the old school look of the labels.
My Dad used to work for Dymo back in the day so I think that's why I was so drawn to these…
This tea storage unit featured on Home Design Inspired uses the dead space at the end of a cabinet and a wire basket to make an inspired space to store your tea.
There's even a legend to help you figure out which tea is where in this big tea collection.
Sometimes simple really is better. This design uses simple mason jars to keep tea fresh.
Cut out the label from the tea box and glue to the lid and you've set up your tea storage cabinet in a flash.
I just love Home Goods! Every time I enter the store I start imagining how I'm going to organize something!
This simple tea station idea uses a basket for tea bags, and a tray for sugar, honey, and a cream pitcher.
You really can make a pretty usable tea organization station out of just about anything! You could probably just shop your house to come up with a great plan.
There's nothing like an organized drawer. The Home Edit shows us just how simple organizing your tea drawer can be.
Plastic lidded bins, color-coordinated tins and simple labeling make for a perfectly organized tea station.
Living Well Mom created this super simple, super organized tea storage cabinet.
This easy to pull together tea organization solution calls for small plastic bins and ziplock bags.
Tea that comes individually wrapped goes straight into bins, while unwrapped tea goes into Ziploc bags and then into the bins.
Could not be easier!
This Instagram inspiration comes from Farah Merhi. She's turned a corner of her kitchen into a lovely tea station.
Beautiful teacups, tea kettle, milk frother, and all kinds of tea are well within reach in this elegant kitchen tea center.
If you're a fan of Marie Kondo, you'll love this idea from Mom Off Track.
Using a tea organizer you can find on Amazon, this easy to put together tea organization station is sure to spark joy!
This super swanky design from Eyeswoon is more of a coffee station than a tea station, but I just had to include it.
If only my pantry was big enough to devote a couple of shelves just to my tea habit.
I wish I could see her whole kitchen, I can only imagine how heavenly it is!
This glamorous tea storage station from Swoon Worthy gets it's bling from a gold tray and spray painted Ikea Grundtal Gold Rails.
I love that it's pretty without looking too fussy, and does the job stylishly.
I'd love to have this cheery blue repurposed tea storage cabinet from Kitchen Decor Pad in my kitchen.
With drawers for storage and space for baskets, this is the perfect tea station, and it looks good too.
With tea storage ideas and organization tips for both loose tea, tea bags, and all the accessories you need for your morning tea, Home Storage Solutions 101 has tons of ideas on how to organize and store your tea.
Tea storage boxes, baskets and more help to organize your kitchen tea station.
Tea Storage and Organization Ideas
Making and drinking a cup of tea is such a soothing ritual.
That ritual can even be made better if you have a well-organized space to start from.
You can organize your tea storage area in simple, inexpensive ways, or go all out if you're lucky enough to be able to redesign your kitchen to include a dedicated tea space.
Whatever you do, enjoy that cup of tea!
If you love tea as much as I do, pin this to your favorite tea-loving Pinterest board and pass it on for others to enjoy! Pinkies up!