The first time I had Thai iced tea, I was in my favorite Thai restaurant (no surprise…), and I needed something to cool the fire that was burning in my mouth after just a few bites of my spicy chili-laden lunch.
Thai iced tea to the rescue! It was delicious and refreshing and the sweet creaminess of it was just what I needed to cool off my burning tongue.
Now that I've figured out how to make this creamy drink, I don't have to actually burn my mouth on spicy Thai food to be able to enjoy a sweet, creamy glass of this iced tea.
Learning how to make iced Thai milk tea at home is easy once you know a few key secrets.
This post may contain affiliate links. My full disclosure policy is sort of boring, but you can find it here.
What Is Thai Iced Tea?
Popular in Thai restaurants, thai iced tea is a beautiful brightly orange-colored drink made up of tea, spices, and sweetened milk. It can be served over ice, but sometimes served hot as well. On menus it's often listed as Cha Yen.
Why is Thai Iced Tea Orange?
I was surprised to find out that the crazy color comes from yellow food coloring added to the tea. I had imagined some exotic Thai spice caused the vibrant color.
When the tea is brewed, it's a gorgeous dark red color. When the milk is stirred in, it changes to a vibrant exotic bright orange color.
Ingredients for Thai Tea
The basic ingredients to make Thai Iced Tea are:
Black tea bags or loose tea leaves and spices OR Thai Tea Mix
Sugar: Brown sugar, white sugar, or your own simple syrup
Milk: evaporated, sweetened condensed milk, coconut milk, whole milk, heavy cream, half-and-half, non-dairy milk, etc.
There are two different ways to make this tea: the easy way and the hard way.
The hard way involves gathering up some authentic Thai spices like star anise, cardamom pods and cloves, and simmering them with black tea leaves. This more authentic recipe is more work, but if you've got the time, pull out your Thai chefs hat and give it a go.
The easy way, which I use and I'm going to share with you involves using prepackaged authentic Thai Tea Mixes that already contain the Thai spices.
The Easy Way: Using a Packaged Thai Tea Mix
This is the exact kind of Thai Tea Mix that I use. It's the number one Thai tea mix out there. It's the one that's often used in Thai coffee shops and restaurant versions.
This is the exact kind of tea my neighborhood Thai restaurant uses to make their Thai iced tea so it's the one that I use.
It comes as loose tea, so you'll need to steep it then strain before you add it to your drink.
If you're lucky enough to have well-stocked Asian grocery stores nearby, you can pick Pantai Thai Tea Mix up there, or just order thru Amazon like I do.
Customizing Your Flavor
The Thai iced tea that you get in a restaurant is pretty sweet. If you like your tea drinks sweet, this shouldn't be a problem.
I did try to cut back the sugar in the recipe, but I found that it just didn't taste right.
So I do have to warn you that you may need to adjust the sweetness of your tea.
How To Make Thai Iced Tea at Home
For this recipe, bring water to a boil in a medium saucepan and stir in the loose tea blend and sugar. Stir until sugar is dissolved and allow the tea to simmer gently for about 2 minutes.
Remove from heat and allow to steep in hot water for 15 minutes before straining and cooling to at least room temperature. The brewed tea should be a deep reddish color.
Don't make this tea in your new white shirt, since it will stain. Don't ask me how I know this fun fact.
(If you want to make ahead, make a big batch and refrigerate overnight. )
Fill your favorite tall glass with ice cubes, pour in your chilled tea leaving space for the milk.
Add your milk choice to the glass, and stir to combine. Adjust the sweetness to your liking.
How About Some Thai Bubble Tea?
Thai iced tea is a popular choice at tea houses as a base for boba tea. If you love the chewy goodness of boba pearls in bubble tea, add about 1/3 of cooked tapioca pearls to your finished Thai iced tea.
MORE TO SIP ON: How to Make Bubble Tea
Easy Thai Tea Recipe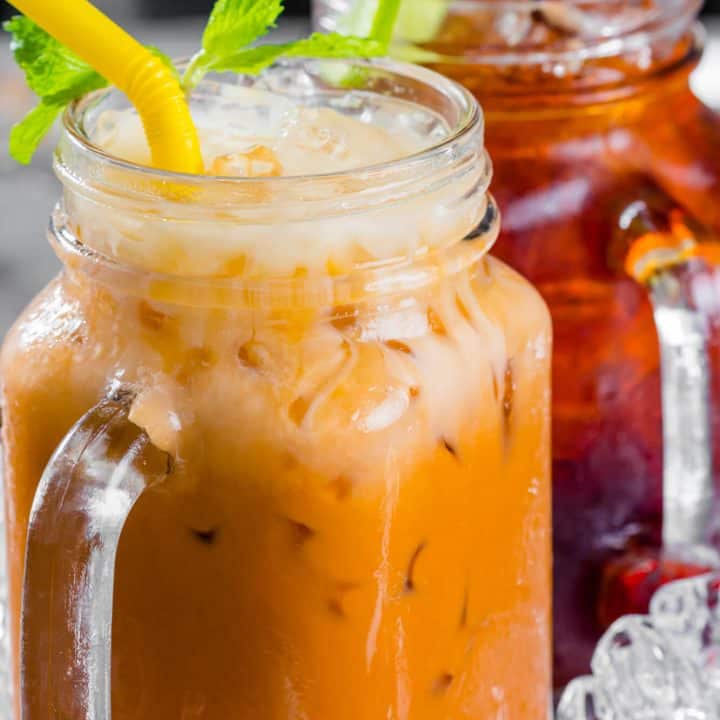 Thai Iced Tea
This creamy and delicious iced tea is the perfect addition to spicy food or just refreshing and cool on its own.
Ingredients
1/3 cup Pantai Thai Tea Mix
1 2/3 cups water
1/4 granulated sugar
2/3 cup milk: half-and-half, dairy milk, coconut milk, sweetened condensed milk, evaporated milk
Instructions
Bring water to a boil in a small saucepan.
Stir in the loose tea and sugar, and stir until sugar dissolves.
Reduce heat and simmer for 2 minutes.
Remove from heat and let tea steep for 15 minutes. Strain and chill.
Fill glasses with ice. Pour in the chilled tea to about 2/3 full leaving room for milk.
Add your choice of milk and stir to combine flavors.
Notes
If you like your tea extra sweet, try using sweetened condensed milk.
You can brew the tea ahead and store in the refrigerator. When you're ready for a glass, pour over ice, add milk and stir.
Nutrition Information:
Yield:

2
Amount Per Serving:
Calories:

140
Nutrition information assumes the use of 2% milk.
Does Thai Iced Tea have Caffeine?
Since this drink is made with black tea, it is a caffeinated drink. The amount of caffeine is the same as that in black tea, about 45 mg per 8 oz serving.
The Takeaway: Thai Iced Tea is Easy to Make and Delicious
Next time your mouth is burning from all the spicy Thai foods at your local Thai restaurant, give this sweet concoction a try. It really is the perfect complement to spicy food. Restaurant versions can be a bit sweet, but that just helps to counteract the burn!