When hosting a tea party, the menu must be planned in advance to ensure maximum guest satisfaction, especially when planning your accommodations for your vegan guests.
However, this can be a scary task, particularly if you yourself are new to vegan cooking and food preparation.
Even if you're looking for vegan tea party recipes, you'll still need a mix of sweet and savory and that's what you'll find in this list.
To help assist your plan of action for your next tea party, here are 15 easy, budget-friendly, delectable, and 100% vegan recipes to draw from for inspiration! From chickpea-based pinwheels and stuffed pepper poppers to dipped biscotti and vegan pigs in a blanket, these 15 recipes are sure to impress your guests' vegan palates and fill their stomachs!
15 Delicious Vegan Tea Party Menu Recipe Ideas – Sweet and Savory
What's better with a cup of tea than a shortbread cookie. These vegan cookies have a hint of lemon and use real lavender flowers for an impressive and sophisticated element!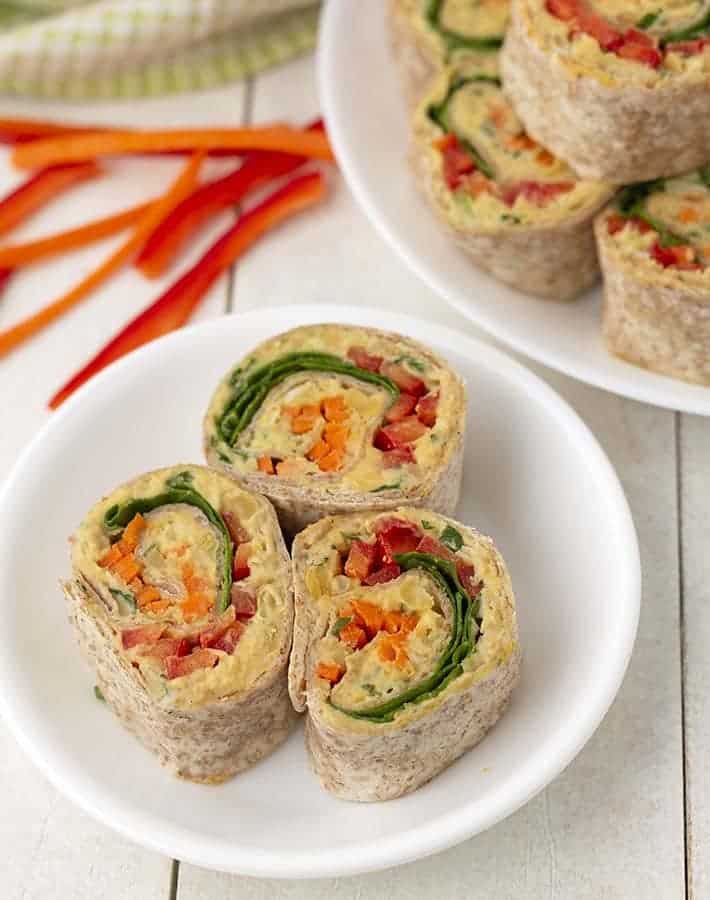 These chickpea and veggie pinwheels are perfect for any easy tea party offering! I love the colors in these vegan finger sandwiches. Make them with gluten free tortillas and they're gluten free as well.
These 4-ingredient bites are the perfect vegan finger food! These crunchy veggie bites are colorful and delicious and would look so elegant on a three tiered tea party tray.
An allergen-free recipe you can offer to every one of your vegan guests! I love that these are good served either warm or cold so you can make them the day before to make your tea party day less stressful.
These stuffed peppers need to refrigerate beforehand, perfect to make ahead of time! Tasty and bite-sized, these are a great addition to your vegan tea party food menu.
A classic tea party menu staple is made vegan by whipping aquafaba instead of egg whites! Pretty ingenious if you ask me. They look and taste just like the traditional macarons. I bet your non-vegan guests won't be able to tell the difference.
This crostini recipe uses fresh grape tomatoes and is perfectly refreshing and light! Roasting the tomatoes gives them a richer flavor that pairs perfectly with the crispy bread and avocados.
Does it get any healthier than chia seeds baked into a vegan cake? I love matcha chia pudding and I'm not even a vegan. This pudding cake is beautiful topped with fresh berries.
A seasonal crostini recipe using hominy and mushrooms, perfect for a winter vegan tea party! The hominy makes this feel heartier and the combination of veggies is a delicious medley any vegan would love.
These paleo berry bars use a combination of berries and are absolutely delicious! A cross between a pastry and a cookie, these are gorgeous and delicious.
Dipped biscotti are great for an Instagram-worthy tea party spread and you save the leftovers, too! Dark chocolate is a welcome addition to any tea party and this biscotti is the perfect vegan choice to dip in a cup of hot tea.
A tart recipe that only takes a little over an hour to make and does not require any apple peeling! This recipe makes a gorgeous apple tart! Almost too good to slice into, but your guests will definitely want you to break out the pie server for this.
These rolls have a golden apricot glaze that compliments the blueberries! These easy to make rolls don't even require special ingredients and work well with frozen blueberries. Yummy!
A vegan tea party recipe that looks exactly like real pigs in a blanket! The secret ingredient that makes these vegan is carrots! Healthy and delicious.
Made without the usual eggs, these vegan lemon bars are the perfect combination of sweet and tart. These lemon bars yield up to 20 bars, ideal for parties!
So there you have it! 15 delicious vegan tea party menu ideas for your next gathering. Looking for more ideas? Check out this post on tea party decor ideas to help you set the stage for the perfect tea party.
Want to save this Vegan Tea Party Menu post to read later? Save it to your favorite Pinterest board and pass it on!